Phones
5 Amazing Android Tricks and Secrets every Android user must Know
So, you've just got a new Android phone. Congratulations! Whether you're a first-time Android user or just upgrading from a previous model, there are a few android tricks and secrets you need to know in order to make the most of your device.
Don't worry, we've got you covered. In this post, we'll be discussing some of the best Android hacks and tips to help you get the most out of your phone. So whether you're looking to speed up your phone, customize your home screen, or just find out what all those little icons mean, read on for our top tips and tricks.
What Are Some Amazing Android Tricks and Secrets?
So you're an Android user. Well, that's great! Android is a fantastic operating system, and there are a million and one things you can do with it.
But are you taking full advantage of all that Android has to offer? Are you using all of its features to the fullest? If not, then you're missing out!
That's where we come in. In this article, we'll be sharing some of the best Android tricks and secrets with you. Once you know these tricks, you'll be able to do more with your Android device than you ever thought possible. So what are you waiting for? Read on and learn!
1. How to block outgoing calls on your Android phone
Sometimes, people would request your phone to make calls and you obviously can't deny them, but here is what you can simply do.
Just dial *#31# and all outgoing calls on your phone will be blocked. To reverse this action, simply dial *#31# again.
2. How to share a trimmed YouTube video
Maybe you saw a video on YouTube and decided to share it with your friends and family but you don't want them to start from the beginning, you want them to start the video from a particular point in time. All you have to do is just copy the video URL, then add ?t=3m30s to the URL.
Note: that's to start a video from 3 minutes and 30 seconds. Take for instance I want you to start watching a video on YouTube from 5minutes and 8 seconds, all I simply need to do is add ?t=5m8s to the URL and when I share the link I added that to, and the person clicks the link, the video will immediately start playing from 5 minutes and 8 seconds.
3. How to uninstall multiple apps at once
Yeah, I know you use third party applications to uninstall several applications on your Android phone but do you know without any third party application, you can actually uninstall multiple applications by using PlayStore. All you have to do is open PlayStore, click on my apps and games, click on uninstall apps and click storage then select the applications you wish to uninstall.
4. This one is how to show 3D image.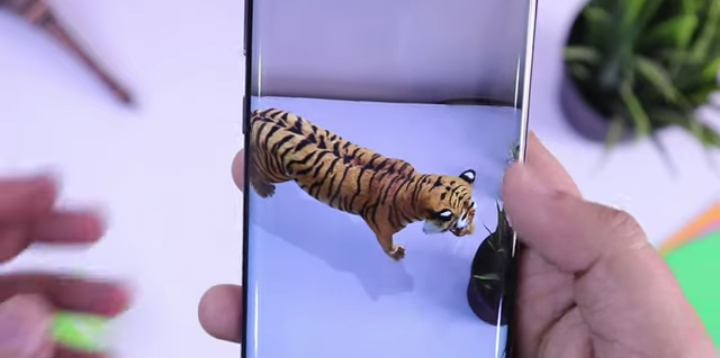 Open your Chrome Browser and search for any animal e.g. Tiger then click on show 3D image. You'll see a Tiger standing up to you in and it'll seem as if it were there with you but it's just a 3D image.
You can have a 360° view of any animal including the sound of the animal as well. You can even click the option view in my space to place the animal on anywhere maybe a table on your room.
I think you all should actually try this out. It's fun, trust me.
5. How to send a message to anyone on WhatsApp without saving the contact
Maybe you got a number and needed to send a message to the number immediately on WhatsApp or maybe you need to share some files or whatsoever on anybody that you don't have on your contact list before, you don't have to go all the way saving the person's contact again.
Simply open your Chrome Browser and type in https://wa.me/the person's Whatsapp number and click go. You will be redirected to the person's direct message box.
How Do I Use These Android Tricks and Secrets?
Now that you know about all these amazing Android tricks and secrets, you're probably wondering how you can use them yourself. Don't worry, we're here to help!
To start off, open up your Settings app and scroll down to the bottom. Under "About Phone" or "About Tablet", you'll find a section called "Software Information" or something similar. Tap this, then scroll down until you see the "Build Number" entry. Tap on this seven times until you see a message that says "You are now a developer!"
Open up the newly created Developer Options menu, then scroll down and enable the switch for USB debugging. Now when you plug your Android device into your computer, you'll see a new option called "Debug USB" pop up. Select this, and your computer will now be able to access your Android device's file system.
What Are Some Other Android Tricks and Secrets I Should Know?
There are TONS of Android tricks and secrets waiting to be discovered, so it's hard to know where to start. But don't worry, we've got you covered! Here are a few of our favorites:
First, did you know that you can swipe down on the notification bar to see a quick summary of all your recent notifications? This is a great way to stay on top of things without having to scroll through your entire notification list.
Second, did you know that you can use your phone's volume buttons to take pictures? Just hold down the button on the side of your phone to take a picture, or use the volume button on top to take a selfie.
Finally, did you know that you can use your phone as a universal remote control? Just download the Peel app and scan the barcode of your TV remote. Then, voila! You can control your TV from anywhere in the house. Pretty nifty, huh?
Conclusion
So, these were some of the Amazing Android Tricks and Secrets that every Android user must know. We are sure that you would have found at least one or two tricks which are new to you and which you can start using right away on your Android smartphone or tablet.
Do share this article with all your friends and family who are using Android devices and let them know about these amazing tricks too. Also, if you know of any other Amazing Android Trick or Secret which we might have missed in this article, then please do share it with us in the comments section below. We would love to hear from you.