Technology
How To Get Voters Card Online In Nigeria 2022 Register PVC Online
If you don't know what PVC is called is simply the short form of calling Permanent Voters Card, yes you can now get it online which is the recent process that was introduced recently in 2022 we can now use an online process which enters the internet process with your phone or computer to get your voters card online in Nigeria can register online just by following some simple steps. 
The rate at which people request voters card in Nigeria is high which some people also give up to get it either due to the stress in processing that people experience when trying to get it not to worry about that anymore for the 2022 process as made things easier for people on how to register and get their Voters card using the online process to get your PVC ( Permanent Voters Card).
How To Get Voters Card Online In Nigeria 2021/2022
The process we are going to be talking about or stating in this article on how you can get your permanent voters card will be for Nigerians only and it's a recent process and guide which you will need to do yourself and don't let anyone collect money from you whenever you want to do it or want to do it yourself. 
You should also put at the back of your mind that not all registration processes can be done online, for registration processes like biometrics capturing won't be done online for you will need to visit a nearby INEC office that is available in your location or area to get that done. 
The voters' card online registration page or website is also said to be Continuous Voter Registration (CVR). Which is designed to make the voter card registration process easier in Nigeria. 
Once you click on Get Started Button on the page or websites you will be provided with some service that entails:
NEW VOTER PRE-REGISTRATION
VOTER INFORMATION REVIEW
LOCATE REGISTRATION CENTRES
TRANSFERS
INFORMATION UPDATE
UNCOLLECTED PVC
LOST OR DAMAGED PVC
Which all are provided just to make and help you get your voters card respectively. 
And print your Voter card or before you are able to get your PVC to let's get to the button line. 
How To Register For Voters Card Online In Nigeria 
First, you will need to visit the websites provided by INEC for Voters card or PVC registration Continuous Voter Registration (CVR) by Clicking here. 
Once you get to the websites or web page cvr.inecnigeria.org, you will need to create an account using your email or activate email. 
After you create the account a verification or activation link will be sent to the email you provide (GMAil or any other email can be used). 
Visit your email inbox and click on the link to activate or verify your PVC account. 
Which will later lead you to a page that will allow you to continue the registration respectively. 
The page is provided with a form that you will be asked to provide your own personal and valid information on. 
After the form has been filled and the registration is done you will need to select a date that will be convenient for you to visit the INEC office to do on pertake on Biometrics Registration. 
gistration. 
Biometrics registration compressed the capturing of your face, fingerprints and other's. 
That will be the final part of the registration process of your voters card registration in 2021 0R 2022 once you select the date. 
You must select or top on complete registration or the submit button to complete the registration you just fill a form on still on the page. 
Once you submit the registration, a slip will be generated that contains your personal and valid QR Code, Application ID and some other relevant information. 
Make sure you print the slip which contains the Application ID and QR code together with relevant information and others. 
Now you will have to visit the INEC within the date you select as the appropriate date that you will be able to visit the office that is located in your area together with the slip of your print. 
Once you reach the select or appropriate INEC your biometrics will be captured. 
After the completion of the registration in the INEC office, another slip will be issued to you that will state the date you will have to come and collect Your PVC Permanent Voters Card. 
Respectively, you have just successfully registered and are ready to get your voter card permanent one. 
Note: PVC is your right and it's something you should claim and collect your own before any form of election takes off in your location plus its free not fund will be acquired for it to be gotten or during the registration process. 
Image Online Voters Card Registration Process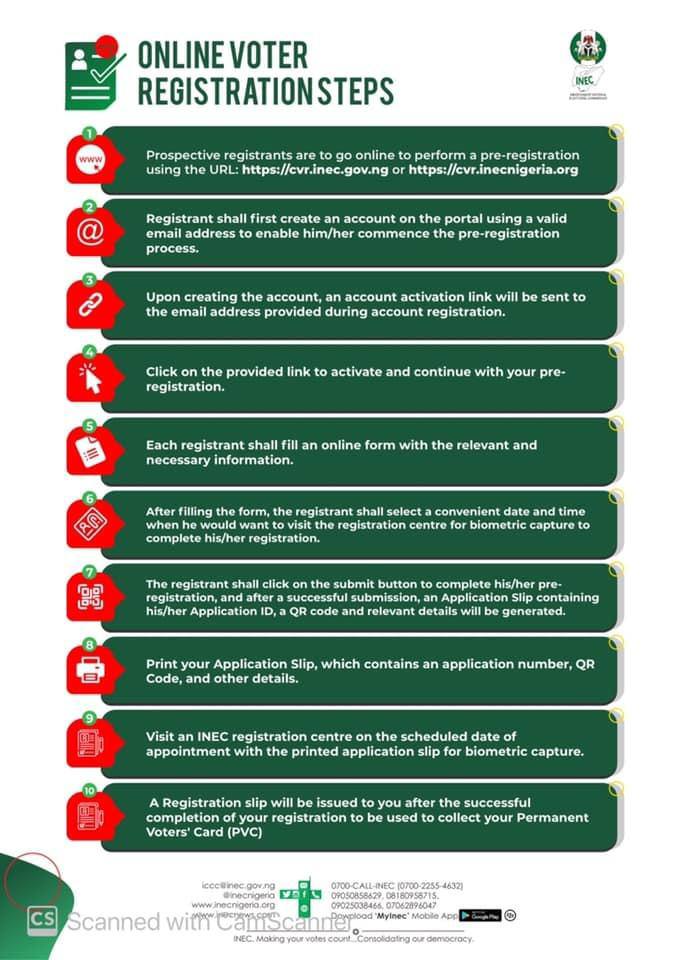 I hope this article is helpful and provides you with what you want.
If so, share it with your friends and family, and don't forget to come back to see more related posts.