Popular reality star, Phyna, engages Roosevelt, the brother of her colleague, Daniella, in a heated exchange over claims of having a toxic fanbase.
Roosevelt had taken to the micro-bloggin platform, Twitter, to air his opinion about the fans of the 2022 BBNaija Winner.
"Phyna nation did this. @unusualphyna knew this was going on and decided to say nothing out of anger for her own. Because we don't have much a voice. People forget where they started from. God is in control.
Ridiculous, toxic fans, and people. You left a reality show game. Leave and doing nonsense carrying beef. Very immature," Roosevelt wrote.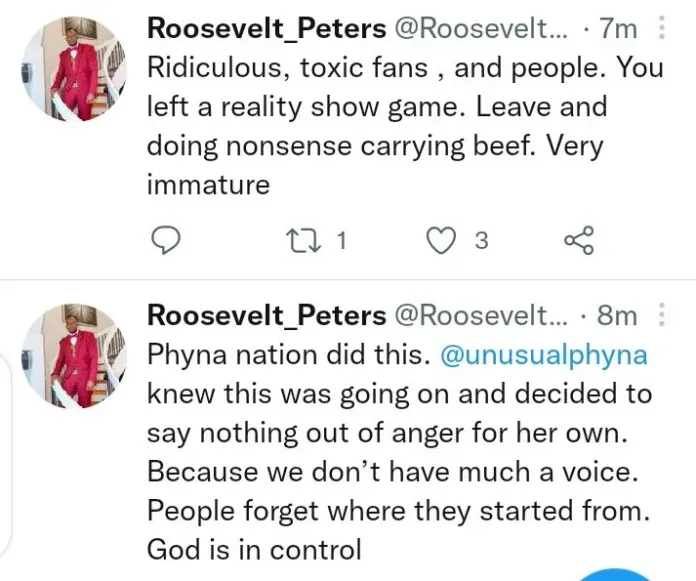 In reaction, Phyna lost her cool while referring to Daniella's brother as a bastard while raining sure on him for coming after her fans.
"You just a bastard of a thousand father, e be like say crase dy your head, you miserable failed human, just not let me catch you one day all I ever did was love your sister and you come here dy tag me to nonsense e be like thunder wan strike you this night," she wrote.
wrote.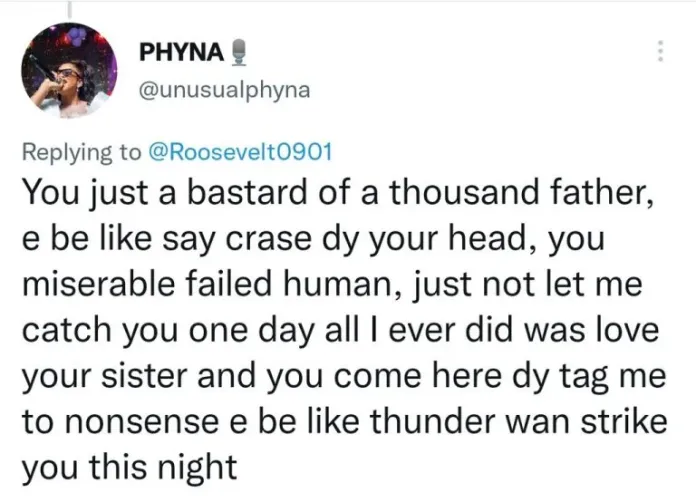 Daniella's brother surprised by the outburst took to the comment section to express the unexpected reaction from the reality star.
"Never insulted you nor your fanbase. Im glad you know how too address something," he noted